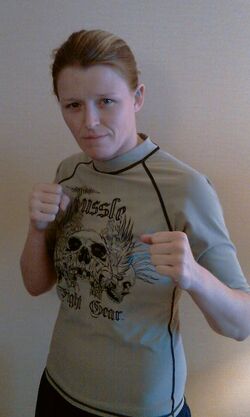 Tonya Evinger (Born June 4, 1981) is a mma fighter in the 135 pound division, who was ranked by the Unfied Women's Rankings.
Background
Edit
Biography
Edit
Tonya Evinger began as a junior high and high school wrestler on the boys team in Odessa, Missouri (the didn't have a women's team). She was a three time national high school champion and made the national freestyle team as a junior - training out of the Olympic training center. She would travel around the world competing. After high school, she was able to secure a wrestling scholarship at Missouri Valley College, where she was ranbked #1 in her division. After graduating in 2004 with a degree in criminal justice, she decided to change to mma.
MMA Career
Edit
Evinger's "Rock" Solid Start

Edit

Evinger would find a mentor in Ken Shamrock, training with him as his Lion's Den Reno facility. Evinger would lose her first amateur match to a tough Jenn Tate, but would win the next four matches including a dynamic pro debut, with a quick 16 second knockout of Brirtany Pullen in June 2006.

Statistics

Edit

| | |
| --- | --- |
| Born | Odessa, MO |
| Fighting out of | Sacramento, CA |
| HT | 5'7 |
| WT | 135 |
| Fighting Style | Wrestling, boxing, pancrase |
| Home Gym | Ultimate |

==

MMA RecordEdit

| | |
| --- | --- |
| Total | 11 |
| Wins | 8 |
| Losses | 3 |
| Knockouts | 4 |
| Submissions | 3 |
| Decisions | 1 |

Facing the Top

Edit

Mid-2007 saw Evinger face some of the toughest challengers in her career, as she would face top ranked fighters Vanessa Porto and Gina Caranom (in Evinger's tv debut). She would lose both matches by submission.




Moving to Cali and Back to Winning

Edit

Evinger would move to Sacramento to join Uriah Faber's Ultimate Fitness gym in 2008. The changed helped her get back to winning, defeating Kat Alendal and ranked Julie Kedzie, amking Evinger one of the top fighters in the division.




Lay off and Return

Edit

It was a tough 2009 for Evinger, as promoters weren't calling for the more experienced Evinger. It would be a long two years before Raging Wolf MMA would give her a shot as a last minute replacement, facing champion Alexis Davis in May 2010. Although dominate in the opening round, the very short noticed showed as her indurance faded towards the end of the fight and would lose via rear naked choke.

Evinger would redeem her loss, defeating A.J. Jenkins in July 2010.

Evinger is expected to face Ragining Wolf champion Alexis Davis Nov. 6.
Professional Record
Edit
| | | | | | | | |
| --- | --- | --- | --- | --- | --- | --- | --- |
| Result | Opponent | Method | Round | Time | Event | Date | Location |
| Win | Adrienna A. Jenkins | TKO | 2 | 3:16 | Raging Wolf 8: Cage Supremacy | 7/17/2010 | Niagara Falls, NY |
| Loss | Alexis Davis | Submission (RNC) | 3 | 1:47 | Raging Wolf 7 | 5/8/2010 | Niagara Falls, NY |
| Win | Sarah Schneider | Decision (Unanimous) | 3 | 5:00 | TFF - True Fight Fans | 6/6/2008 | Grain Valley, MO |
| Win | Julie Kedzie | Submission (Rear Naked Choke) | 1 | 1:43 | ShoXC: Elite Challenger Series | 1/25/2008 | Atlantic City, NJ |
| Win | Kat Alendal | Submission (Armbar) | 1 | | PFP - Ring of Fire | 12/9/2007 | Manila, Philippines |
| Loss | Gina Carano | Submission (Rear Naked Choke) | 1 | 2:53 | Elite XC: Uprising | 9/15/2007 | Honolulu, HI |
| Loss | Vanessa Porto | Submission (Armbar) | 1 | 2:14 | FFF 2 - Girls Night Out | 7/14/2007 | Compton, CA |
| Win | Ginele Marquez | Submission (Rear Naked Choke) | 3 | 1:58 | Tuff-N-Uff 2 | 4/14/2007 | Las Vegas, NV |
| Win | Shoni Plagmann | KO | 2 | 0:10 | Extreme Wars: Xtreme Fighting 2 | 3/17/2007 | Honolulu, HI |
| Win | Angela Hayes | TKO | 1 | 1:02 | KE - Kick Enterprises | 3/10/2007 | Ft. Myers, FL |
| Win | Brittany Pullen | KO | 1 | 0:16 | Fatal Femmes Fighting 1 | 2/17/2007 | Los Angeles, CA |